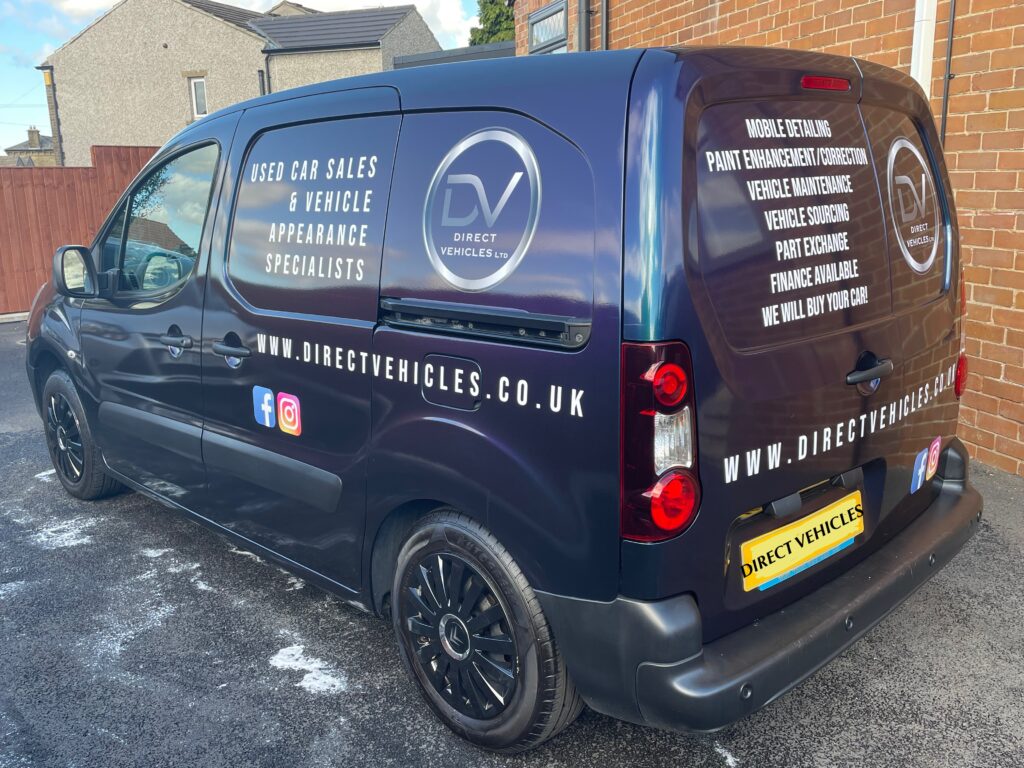 We are now offering our in house appearance maintenance services to the general public. Our state of the art Mobile van comes equipped with water, electricity and some off the best products on the market to clean, shine and protect. We will be covering Bradford and surrounding areas. Our main aim is to bring you a professional and convenient service Direct to your home, or Direct to your place off work. Our 15 year plus experience and knowledge off the Automotive Industry helps us put our expertise to work for you and your pride and joy. We only use the best products on the market which help us achieve the best results, but also ensuring the chemicals we use are safe and sound not only for your vehicle but also the environment. We are dedicated in the work we do and nothing gives us more satisfaction knowing our customers are happy and returning to seek advantage off our fantastic service. We want you to feel at ease and let us carry out the hard work for you to help maintain and protect your vehicle around a schedule that suits you. Frequent maintenance will not only protect your investment, but also increase the value off your vehicle when coming to resale. Give our friendly team a call today or drop us a email for any Vehicle Appearance enquires or quote.
SOME OF THE SERVICES WE PROVIDE…
Bronze Detail
Citrus Pre Wash
Alloys Deep Cleaned
Snow Foamed
Luxury Shampoo Contact Wash (2 Bucket Method)
Vehicle Dried & Tyres Dressed
Silver Detail
Includes everything from the Bronze Detail plan Plus:
Interior Hoover Including Mats
Dash Cleaned & Protected
Windows Cleaned Inside & Out
Gold Detail
Includes Silver Detail Plus:
All remaining Plastics Cleaned & Protected
Door Shuts & Sills Cleaned
Boot Shuts Cleaned
Any External Plastics Shined & Protected
Air Freshener Sprayed
Platinum Detail
Includes Gold Detail Plus
Seats & Carpets Washed/Steam Cleaned & Extracted
Any Stains & Odours Removed – Including Car Mats
Platinum Plus
Includes Platinum Detail Plus:
Fall Out Remover
Full Hand Exterior Polish
Headlights
Taillights & Wing Mirrors plus any exterior trim.
Direct Detail
Includes Platinum Plus Detail as well as:
Full Engine Bay Clean, Shine & Protection
Extras Which Can Be Added To Any Package:
Clay Bar Decontamination
Normal Sized Car £40 (additional 1hr)

Machine Polish Enhancement
(Recommended for dull looking paint)
Normal Sized Car £120 (additional 2hr)
Estates, 4×4 & Vans £170 (additional 3hr)
Stage 1 Paint Correction
(Recommend for light Haze & light Scratch Removal)
Includes Machine Polish, Wax Sealant & Detailer to finish.
Normal Sized Car £200 (additional 3hrs)
Estates, 4×4 & Vans £300 (additional 4hrs)
Stage 2 Paint Correction
(Recommend for heavily scratched and marred paintwork)
Includes Compound Cut, Machine Polish & Wax Sealant Plus Detailer to finish.
Normal Sized Car £300
Estates, 4×4 & Vans £400
Both Stage 1 & 2 Will Also Include Clay Bar Decontamination prior to machine polishing.
Additional hours may be required on larger vehicles.
All prices and time scales are subject to vehicle inspection, weather on the day.
Any vehicles with Pet Hair will be charged extra as Pet Hair Removal is very time consuming. We advise you pre warn us off any pet hair no matter how severe so adequate action can be taken prior to arrival.
Please book in advance to avoid disappointment.
Coming Soon Ceramic Coatings
We also Partner with, Mechanical Garages, Alloy Wheel Repair, Body & Paint Repair Specialists to help assist with any other vehicle repair or Maintenance needs you may require, all at competitive prices.
Please call or email with any queries or to get a quote.